My name is Stuart Elden and this is a site about politics, philosophy and geography, interesting books, my own writing and whatever else comes to mind.
I'm a Professor of Political Theory and Geography at the University of Warwick, in the Politics and International Studies department. In this role I will also be spending two months a year at the Centre for Urban Science and Progress at New York University, and at Monash University where I hold an adjunct appointment as Monash Warwick Professor in the Faculty of Arts as part of the Monash-Warwick Alliance. I was previously Professor of Political Geography at Durham University, where I was one of the Directors of the Institute of Advanced Study and the Academic Director of the International Boundaries Research Unit.
Between 2006 and 2015 I was editor of the journal Environment and Planning D: Society and Space. Since 2011 the editorial team have run a companion open site at www.societyandspace.com A book series is being launched with Sage, of which I am the editor.
My interests range fairly widely between philosophy, politics, geography, literature and history. I'm the author of five books and the editor of seven. My most recent book, The Birth of Territory, was published by University of Chicago Press in 2013. My next book is entitled Foucault's Last Decade and is projected for publication in 2016 with Polity Press. It will be followed by a book entitled Foucault: The Birth of Power. On these projects see this page. I intend to follow this with a book on Shakespeare, and further ahead with work on the concepts of the world and earth.
My articles have appeared in journals in a range of disciplines, and some have been translated into French, German, Spanish, Italian, Croatian, Turkish, Russian, Farsi, Hebrew and Korean.
You can find a list of future talks here and free downloads here.
When I'm not working I enjoy cycling, watching cricket and a range of music.
A list of Frequently Asked Questions and responses is here. Please note that while I welcome comments, they need to be accompanied by a valid email address. Comments using false email addresses, false names, multiple false identities from a single IP address, etc. will not be posted. I'd rather not have to turn comments off, but I will 'trash' anything inappropriate. In the Middle has a moderation policy that provides a good justification for the kind of comments I would like to see here.
Amazon.com page; Amazon.co.uk page
Google Books and Google Scholar
Follow this blog on Facebook and Twitter – though see this caution about using Facebook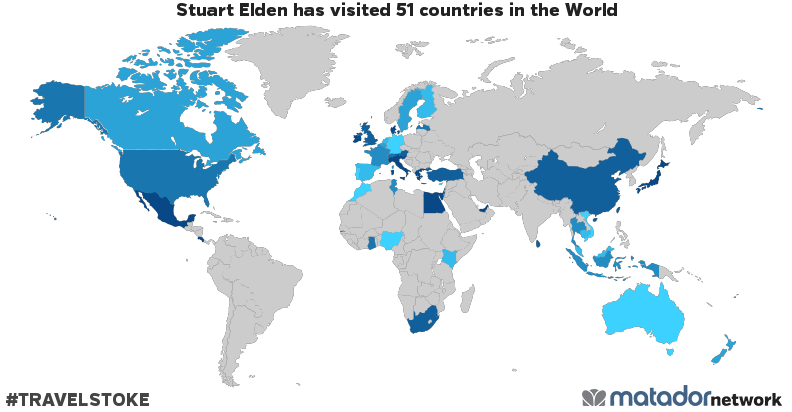 Get your own travel map from Matador Network.